Different Types Of Drywall You Need To Know About Before Repairs
Posted by Michael Griffin on November 26th, 2019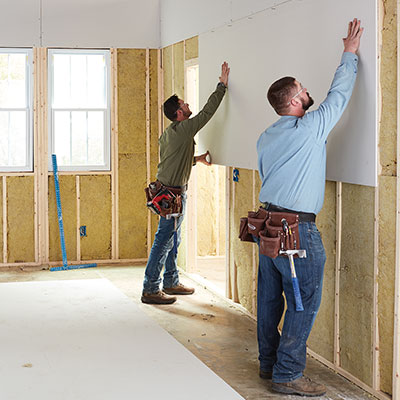 Before starting a DIY drywall repair in Parker, CO, it is important to understand the different categories of drywalls that cover your interior. Drywalls are large panels of gypsum panels plastered between two paper faces, one surface faces the wall and the other is painted on. These boards make interior designing easier as the walls don't have to be plastered before painting and finishing. It simply needs to be sanded and painted. Depending on the type of material, drywall can be used to protect the walls from moisture damage and fire or to soundproof the room. Also called gypsum board, they can be categorized into the following:
Regular Drywall
Also called white board, this is the most common type of wallboard that you might be familiar with. It's one side is gray and the other is brown. It comes in 4 x 8 foot panels and its thickness ranges from ⅜ to one inch. It can be installed all over the home. It's not inferior to other types of gyp boards but doesn't have the extra fire or moisture resistance that specialized boards do. Bt on the plus side, it's the cheapest option and can be used for basement and other residential remodeling.
Green Board
Green board or moisture-resistant drywall has a green surface that makes it more resistant to moisture. So it is used as a tile backer for kitchens and bathrooms. But it's not completely waterproof and shouldn't be exposed to water directly. If you install it in wet areas, be sure to cover it with waterproof materials like ceramic tiles. It also resists mold better than standard wallboard but costs slightly more.
Blue Board
Also called plaster baseboard, this plasterboard has a blue surface that is used for veneer plastering, a repair method in which a thin layer of plaster is applied to the board. It's commonly used in the renovation of old homes. Blue board is ideal for veneer plastering as it has special absorption properties which cut a few steps involved in it. It is also resistant to moisture and mold and reduces noise to some level making it great for washrooms.
Paperless Gyp Board
Unlike other gyp boards, this one does not have paper surfaces. Fiberglass is used instead of paper to protect the board from rot thus offering greater resistance to mold and mildew. Despite it being tougher than regular drywall, some contractors find paperless drywall panels easier to cut and install. Its main disadvantage is the slight texture on the surface that needs to be covered by a joint compound for a smooth surface.
Purple Gypsum Board
It's like the regular board but with better moisture and mold-resistance. It can be used on walls and ceilings all over the home, including places where it might come in contact with water. It's much costlier than standard boards but the health benefits of preventing mildew and mold are worth it.
Type X Wallboard
Also called X board, fireboard, this wallboard is resistant to fire thanks to the non-combustible fibers used to make it As per building codes, it's used in fire-prone areas like a garage, bedroom, apartments, multi-housing facilities and commercial settings. You can increase its fire-resistance by installing multiple layers. A ½ inch board can resist a fire for half an hour and a ⅝ inch thick board can resist it for one hour. Its thickness can also reduce noise.
Soundproof Plaster Board
This plater board is the one people use when they want a quiet room. It's usually used for meeting rooms, music rooms, etc. It's made out of a mixture of wood fibers, gypsum and polymers that absorb the noise. It is thicker than other boards and harder to cut but worth the price.
These are the basic types of wallboards that you should know about before conducting a drywall repair in Parker, CO. You will also need some tape, screws, measuring tape, blade, and other tools for your DIY project.