Be Better Protected in Your Pickup
Posted by Radmin on December 27th, 2019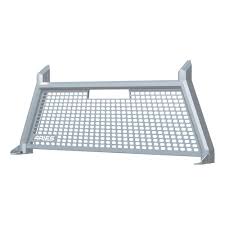 If you're the owner of a pickup for either business or pleasure, you're in good company. In the United States, over 200,000 new pickups are sold each month, and the numbers keep growing. These hard-working vehicles are the lifeblood of many companies and sole proprietors, in addition to being a fun vehicle to drive for pleasure. How can you have a tailgate party without a pickup? Since there are so many trucks on the road, and so many are in use for business, it makes sense to individualize your ride with either a company logo or show off your loyalty to a football or baseball team by tricking out your pickup with a headache rack.
What Is a Headache Rack?
These racks extend across the back of the truck cab to protect the occupants of the cab from loose items in the truck bed. A sudden stop can make the untethered cargo go flying, sometimes through the rear window. You can easily imagine how flying cargo and shattered glass can cause much more than a headache to you or your passengers. By installing a headache rack, you are taking a huge step forward in vehicle safety. It also has the benefit of shielding the truck cab from the sun, making the cab cooler. A headache rack provides a nice balance between security and style.
How to Customize a Rack
You can choose a basic design if you want, but if you are using the truck for your business, you should take advantage of the opportunity to advertise your business on the rack. If the vehicle is used for pleasure, you can show off your interest by choosing your favorite team's colors or a wildlife theme. These racks can also be upgraded with additional lighting for night time use. Spend some time thinking about how you want to customize your headache rack before you place your order. That way, you can pick out your truck easily in a crowded parking lot.
How to Order
Check out various companies by logging onto their websites. Search for a company that builds its products in the US, and employs exacting standards to their products. They should offer to work with you on a custom design and offer a limited warranty on all parts and assure that the product is free from defects. They should offer a warranty on the product and allow for refunds on any non-custom work. These are the hallmarks of an established company that manufactures a headache rack.