Best Billing Software for Retail Shop That You Should Consider For Your Store
Posted by Ashish Jain on January 25th, 2020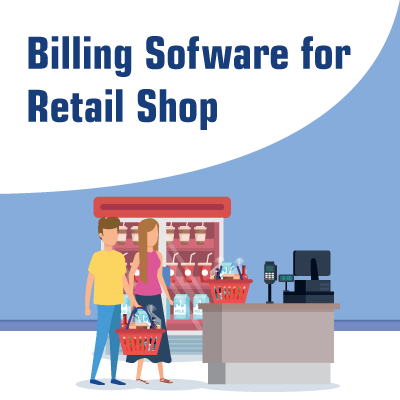 Due to the constant evolution and advancement in modern-generation technology, almost every industry is changing the way they work, they meet the new customers or lead the business. The retail industry is one of them which is incredibly evolving each passing day and going through digital transformation. Various retail companies or enterprises are working with advanced solutions to provide a unique shopping experience to their customers. Around 65% of retail stores in India are using advanced tools or solutions to boost their business operations, while various others are planning to integrate it into their system.
You must have seen various cash counters in shopping malls, mega-marts or outlets, all these counters associated with billing solutions are using to streamline the complex invoicing process. Now the question comes in mind as to how to identify the best billing software for retail shops. There are various solutions or tools available in the markets that are offering amazing services to their clients. But choosing the right one is the most daunting task for every business owner. No worries, this article is for you.
Well, here in this article we will discuss the most important factors that will help you make the right choice. However, there are various reasons for having digital solutions that we will discuss further in this article.
Let's take a look at what is Billing Software?
A billing system is a set of programs that have been designed to calculate and generate bill receipts for the products and services that the customers have bought from your shop. It also offers a number of features to the shop owners to smoothly and accurately run the shops. This modern digital structure is also being used to track the working hours of the employees as well as inventory associated with the products. These types of solutions automate various time-consuming activities of preparing invoices or other documents.
In today's time, RetailGraph billing software has become an integral part of the retail industry and even playing an important role in managing complex retail operations.
What is the Use of Billing Software?
Basically, the use of digital solutions at the small, medium, or large store is to generate the invoices and manage other activities of the store such as accounting, employee monitoring, stock management, sales report, and more. If you are running a physical outlet and facing technology challenges, then you can download free billing software available in the market. However, the price also varies by usage or size of business.
Why Use Billing Software?
Primarily, it eliminates manual data entry and ensures that financial figures or other reports are accurate. Inventory, invoice reports, and accounting reports are very important and a core part of retail business, this is where billing software for the shop came in the market to ease complex processes and keep the business running.
In addition to these, this kind of solution also offers various useful features such as tax calculation, financial calendar, sales reports, database, due bill reminder, and many others. Business owners nowadays don't compromise with the services they offer to the customers and go for the best billing and accounting solutions.
What are the Key features of billing software?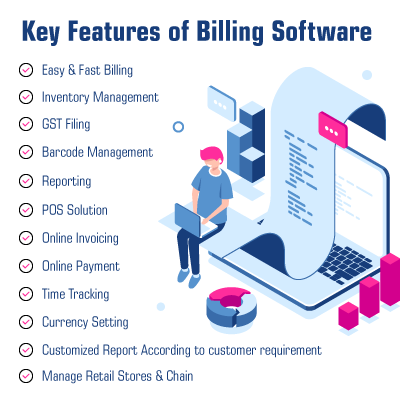 ·

Easy & Fast Billing
This makes the invoicing process faster, easier and secure. It is worth using for a physical store. It is easy to operate and can integrate with the smartphone.
·

Inventory Management
You can manage the inventory of your physical shop as how many products are in stock and list of sold products.
·

GST Filing
As Goods and Service Tax law In India, it is very important to have this feature in the software. Right from GST returns, to GST filing, now small or medium-sized businesses can easily perform GST related tasks.
·

Barcode Management
Get product details such as price, discount, etc., by scanning a barcode. This integrated feature will help you manage products.
·

Reporting
Reporting related to sales, inventory, accounting, newly added customers, etc., can be done easily with retail solutions.
·

POS Solution
A point of sale (POS) helps store owners to calculate the number of products that the customers have purchased. It makes payment faster with accuracy.
·

Customized Report According to customer requirement
It has become easier to generate customized reports according to customers' requirements. Store owners can generate detailed receipts of bills or invoices.
·

Online Invoicing
A single copy of the bill store owner can store in their database which can be accessed as per the requirement of customers.
·

Online Payment
Store owners can receive payment online through UPI, Paytm or other digital payment modes.
·

Time Tracking
This also helps you track hours worked by employees and based on it you can schedule their working days.
·

Currency Setting
You as an owner can also set default settings of currency using which you can receive money frequently from the shoppers for the products that you sold.
·

Ma

nage Retail Stores & Chain
Using a single software, you can manage and get real-time reports of your retail stores & chain anywhere and anytime.
How Billing Software Works?
· Install the software in your system
· The shop owner will get a unique key to get into the system
· Customer information is stored in the database
· Products are scanned through barcode scanner to get product price
· It generates an invoice based on products information through an electronic invoicing system
· Computer systems then deliver an invoice
· The cashier accepts payment by the customer
· You can also get other reports just by selecting time, day, week, month or year.
Conclusion
Now the role of billing software in the brick & mortar store is clear to you. It is the right time for retail businesses to have an ideal solution to the system to automate various tasks. To know retail billing software better, you can ask your technology partner for a free demo.