Tips to Help Bridesmaids Say Yes to the Dress
Posted by Radmin on February 2nd, 2020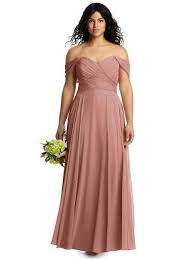 Your wedding day is one of the most important days of your life, and part of that is having your favorite girlfriends share in the celebration with you. Soon, like old times, you and your bridal party will get to join in the fun of shopping together for bridesmaid dresses. Because bridesmaids come in all shapes and sizes, fortunately, the days of seeing the entire wedding party wear matching dresses are over. Whether you look for bridesmaid dresses online or go into a specialty shop, here are some tips to help your bridesmaids look and feel their best (whatever their dress size) before they say yes to the dress.
1.Different colors
The same colored dress might look different on multiple people due to different skin pigment or hair color. Someone could look great in a champagne-colored dress that might make another look washed out. Once you all agree on a style of dress, try on multiple colors to see which color looks more flattering on each bridesmaid.
2. Same colors, different styles
If you're set on the same color for a more coordinated look, you can give your bridesmaids the option to choose their own style. They can change the look to complement their personalities or preferences, such as spaghetti straps, strapless, ruffle sleeves, one-shoulder, pleated bodice, or lace. Or they can choose to go with different dress lengths. Your bridal party will appreciate the opportunity to choose something unique from the others.
3. Different fabrics
As with colors, a material that looks good on one person might not be flattering on another person. When trying on dresses, have your bridal party bring along the undergarments they plan to wear for the big day, so they can get a better idea of how the dresses will fit and look on them. Don't be afraid to explore different fabrics like lace, tulle, velvet, or satin.
4. Multiple uses
Oftentimes, bridesmaid dresses can only be worn for certain occasions: formal gatherings. Instead of settling on a dress that will rarely see the light of day, opt for an outfit that has a bit more longevity. Choose a style that matches the theme of the wedding but has a comfortable fabric that can also be worn to the office or for a nice dinner. By choosing this style, your bridesmaids not only will feel at ease in their wedding-day attire, but they'll have gained a new outfit in their wardrobe too.
Equipped with these tips, you can browse bridesmaid dresses online or visit a specialty shop that can outfit your entire bridal party with options ranging from petite to plus-size bridesmaid dresses.