Why Are Muted Colors so Popular?
Posted by Radmin on February 14th, 2020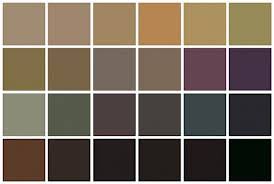 If you want to paint your house to look stylish and fresh, take note of some of the top trends in interior design. One of the most common trends worldwide is a preference for muted colors. Furniture, decor, and especially wall paint in muted colors look trendy and current.
But what are muted colors and why are they so popular? How can you ensure that you follow this house painting trend this year? Read on to learn more about this popular color trend and its most notable qualities.
The Color Wheel
All colors visible to the human eye fit into the color wheel, a spectrum of every color of the rainbow, blends of these colors, and varying degrees of white or black in each. Different color quality, saturation, and brightness on the color wheel help people find the right color choices for their homes, as well as color pairings that match.
Muted colors refer to those highly saturated colors that are softened with white and black, giving them a flatter and more mild quality. So rather than having a bright, pastel color or the intensity of a pure color like primary red, muted colors are reduced into a grayish palette.
Why the Popularity?
Muted colors may sound like a bland and limiting choice. Why reduce the full spectrum of possible colors for your home into a grayish range?
First of all, the muted color range isn't as limiting as you might think. That's because you can add gray to virtually any color. For instance, you can take a bright yellow and mute it into a mustard, powder yellow. It will still look warm and positive, but simple and modern at the same time. Mute a bright and unsightly green with gray to get a minty, cool shade that's perfect for every room of your home.
Best of all, muted colors look best with some of the most popular home design materials today, like natural stone surfaces, genuine hardwood, black steel window frames, and metal accents.
How Can You Follow This Trend?
Contact a local painter who specializes in interior paint jobs and inform them that you'd like to paint your home in a gray-muted palette. They can help you find the perfect blend of colors for every room of your home. Always leave house painting in Johns Creek GA to the pros if you want the best-looking, longest-lasting, and most stylish paint job this year.