Learn More about Popcorn Shrimp Nutrition
Posted by Radmin on February 29th, 2020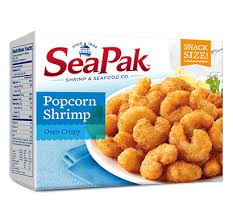 Popcorn shrimp is a much-loved appetizer or snack that's packed with texture and flavor. Juicy shrimps are coated with seasoned panko crumbs and then deep-fried to crispy perfection. Whether store-bought or made at home, it's good to know more about popcorn shrimp calories and its nutrition profile. Knowing more about what's in your food helps you make healthier choices or substitute fattening ingredients or cooking methods with leaner alternatives. So, let's dig deeper into what you're getting when you eat a bowl of your favorite shrimp snack.
Shrimp Popcorn Nutrition
We scoured several brands of ready-to-use popcorn shrimp and have listed the nutrition from a popular popcorn shrimp brand commonly found in the frozen aisle of grocery stores across the country. There are 210 calories in a 3-oz serving size of popcorn shrimp, which is about 14-15 pieces. Ninety calories from that total come from fat. A 3-oz serving of frozen, ready-to-use popcorn shrimp contains 10 grams of fat, which is equivalent to 15% of the Recommended Daily Allowance (RDA) on a 2,000-calorie diet. There are 1.5 grams of saturated fat in a 3-oz serving of popcorn shrimp. It doesn't, however, contain trans fat, which is great news for those with cardiovascular problems. Popcorn shrimp is high in cholesterol (60 mg), which serves 20% of your daily cholesterol requirement. It's also high in sodium packing nearly 480 mg per serving. It contains 20 grams of carbs and is a good source of protein with 10 grams in each serving. Popcorn shrimp also provides trace amounts of Vitamin A, C, iron, and calcium.
Making Popcorn Shrimps Healthier
Popcorn shrimps are a delightful snack, but they're high in calories and fat. There are simple ways to make this tasty appetizer a bit healthier so you can enjoy it while ensuring you're eating well. The top ways to cut fat and calories is to bake popcorn shrimp instead of deep-frying them. Just spray the popcorn shrimps with olive oil or avocado oil and stick them in your oven for the stipulated time to get crunchy shrimps that taste as good as fried. Also, try using whole wheat panko crumbs in place of the regular variety. This will add more fiber and vitamins to this dish, making it healthy and wholesome. Use only low-fat dips and sauces for serving popcorn shrimps. Replace fat-laden mayonnaise with refreshing veggie-based dips such as a fresh tomato salsa.
Knowing the calories in popcorn shrimp will help you chose your proportions wisely, so you don't over-indulge.