Holographic AR | The Future of Reality (2020)
Posted by Picasoth on March 10th, 2020
Finally, with the effort of Integem, holographic augmented reality (Holographic AR) is coming to the market, with its simple to set up, affordable price, and great interactive and immersive experience. Integem new holographic AR system is great for companies, schools, and families to own. It has a lot of applications, from game design, interactive movies, news reporting, education, digital animation, etc. They may be basically different than the VR and AR systems. It does not need headsets.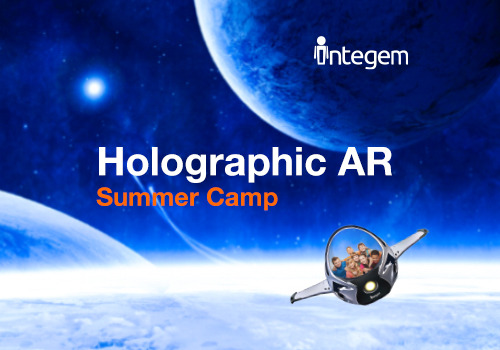 Furthermore, Integem made it simple and easy to create Holographic AR experiences. Kids and teens can learn to do it themselves now at Integem STEM Camp. It can be great for corporate training and military training too. It can be great for the game industry. Playing Holographic AR games no longer a "fat gain" couch experience.
It is about full-body movement and fun experiences. It can actually help you to lose weight and exercise. Many kids and teens loved the Integem Holographic AR STEM programs. In particular, they loved their Holographic AR Game Design program. Of course, if you want to pursue artificial intelligence (AI) track, you can take their AI+AR course. It is highly rewarding.
Now, let's discuss what is AR, and How Holographic AR makes a difference.
Augmented Reality (AR):
Augmented reality, or AR, is to just add a layer of images in front of real scenes. It makes things look cool. But however, holding a smartphone or iPad at the hand to play is very inconvenient and uncomfortable. Also, the moving things with moving body make eye very uncomfortable.
This is one of the problems of existing AR experiences. Another problem is the limited immersive experience. You will still in your own physical world and just added some virtual things here there. It won't make you feel it real or magic. It can be a fun App to play with for a couple days. But it won't be a major long-lasting things people would do every day.
It takes a team of engineers and artists to program an AR experience.
Holographic Augmented Reality (Holographic AR)
Holographic Augmented Reality, or Holographic AR, is far more advanced than augmented reality (AR). It immerses people into the virtual world and interacts with the virtual objects with a natural user interface.
This makes the experience very immersive and interactive. People feel comfortable. And users do not need to wear special glasses or hold a smartphone. This makes experience nature.
Integer created icreator that makes it simple and intuitive to create Holographic AR experiences. Students as young as 5-year-old can learn to program their own Holographic AR projects at Integem STEM Camp.
Now you can compare traditional AR experience with Holographic AR experience, which one would you prefer? You can leave your comments below.
If you would like to learn more, you can check Integem website.