3 Best Alternatives to Party Dresses
Posted by Radmin on March 18th, 2020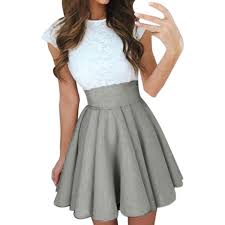 Although party dresses are the go-to choice for various occasions, they're not the only outfit that makes one look their best. Several garments are great additions to every wardrobe and staples for numerous events. Here are the top 3 picks.
Jumpsuits
Many people who prefer not to wear a dress but still want a one-piece garment opt for jumpsuits. They're both chic and comfortable, and they come in various designs. Individuals will certainly find a style that fits the event. Here are a few considerations for those who will try this outfit:
Choose jumpsuits that are cinched at the waist for a more flattering silhouette.
If the design isn't cinched, wear a belt to create an hourglass silhouette.
Wide-legged jumpsuits are flattering for those who are tall, while slim cropped variants look best on people with petite frames.
Skirts
For those who like something as feminine and sophisticated as dresses, skirts are the best option. There are several designs, ranging from lace to satin. High-waisted and sequined styles, for instance, are statement pieces that will turn heads. When this garment is paired with an elegant top, one will surely pull off a fashionable outfit perfect for any party. Here are tips for wearing this article of clothing:
While one is free to wear whatever they like, varying styles are recommended for each body type. For instance, miniskirts are the top option for petite figures, while maxi designs are for taller individuals.
A pencil skirt is generally a good choice for those who want to show off their curves since this clothing naturally clings to the body.
Blazers
While blazers are often associated with corporate settings, they're also good for parties as they give off a sophisticated vibe. Plus, they're easy to pair with dressy trousers or shorts, for those who like an unconventional outfit. Long versions of this clothing are popular as well, and some opt to wear them without inner garments for a sexy yet classy look. Here are tips to consider when choosing a style:
Look for blazers that are fitted but not too tight. Oversized ones should also be avoided as they make the wearer appear larger.
Those who have curvier lower bodies can balance out their proportions by opting for patterned blazers that will emphasize their upper half.
If one has a broad upper body, designs with soft shoulders and flare details, such as peplum and ruffles, are preferred.
Designs that are cinched work best for those who want an hourglass figure.
There are numerous party dress alternatives individuals can wear. Whether they'll opt for a high-waisted skirt or a cropped jumpsuit, what's important is that the style is flattering, and they're confident in it. With the right outfit and attitude, it's impossible not to look beautiful and draw everyone's attention.