How To Be An AMAZING Team At Work
Posted by Em parsons on March 26th, 2020
Creating an amazing team in the office allows the company to achieve more. Individuals can become better assets to the team by finding new ways to work together, learning how to increase their skills, and trying different organisation ideas in the office for greater team effectiveness. Here are a few tips you could implement in the office in order to create a team that works with greater efficiency and easier processes.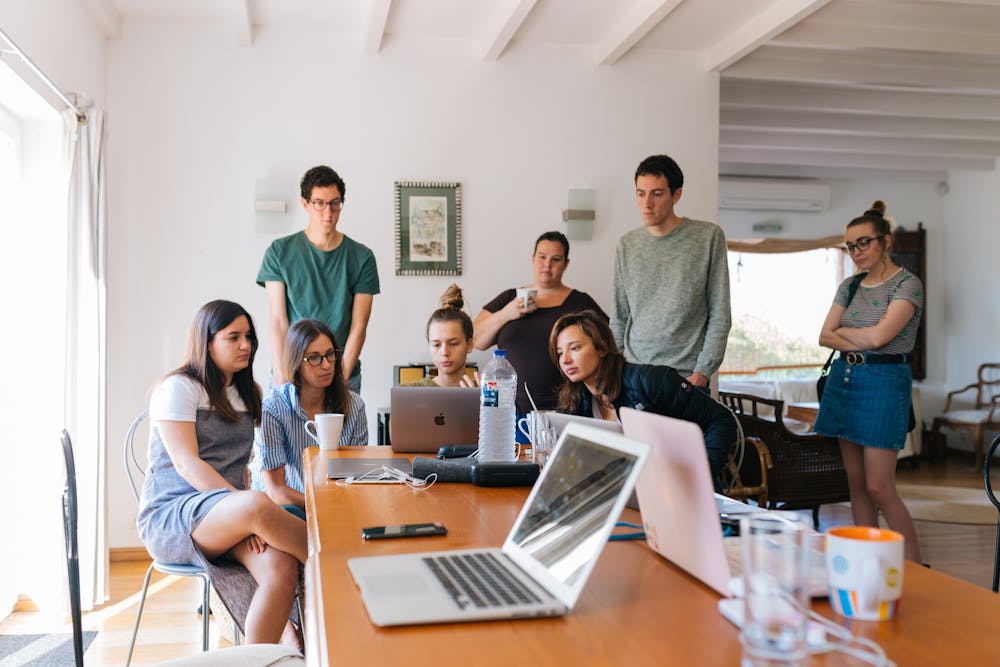 1. Idea Sharing
The first tip is to implement idea sharing often in order for the office to hear everyone's opinions. By including collaborative brainstorming in meetings, everyone can display their input about the task ahead and therefore, the best solution can be chosen together. Hearing ideas from new workers, interns or those who are usually quiet can avoid groupthink.
Ideas do not just have to be about a project to collaborate, they could also be new ideas for sustainability or where the company could implement more CSR. For example, a team member can bring forward an opportunity to participate in a charity event close to the brand values, such as a sports company raising money through a marathon for charity. By allowing idea sharing, the company is encouraging less groupthink, and all also ensures that employees feel their voice is heard, rather than solely managers making decisions.
2. Try New Processes
Employees can become a better team when they challenge current processes and look for new ways that of efficiency. By implementing a feedback box at work, employees can communicate where they believe processes can be more efficient, for example, task delegating may be too slow or need better organisation. One way to do this is to implement a new office tool such as a project management software so that employers can more easily delegate tasks, and prioritise the most important projects to complete for the week. Other new process ideas include stand-up meetings at the beginning of every day to alert individuals of the tasks they are currently working to both avoid having nothing to do, and to ask for help if their workload is too full.
3. New Skills
Another way to create a better team is to allow cross-collaboration in the workplace. Employees can gain new skills by asking those who are experts in the area about how to undertake tasks. If a skill is missing in the office that may benefit the team, it may be time to invest in training for an employee. This can be especially useful with courses revolving around IT, because it is an evolving area that may need to be revised, which can be completed with an online programming course from Upskilled. Overall the more skilled your team is in multiple areas, the more efficient the team can work. This can eliminate the need for unnecessary outsourcing, and the variety of tasks opened from learning new skills can encourage less turnover due to boredom.
4. Hot Desks
A way that the business can mix up the office space in order to facilitate amazing work teams is to have hot desks in the office. Hot desks are when individuals do not have assigned seating at work, and can, therefore, choose where they would like to sit each day when they come into the office. The benefit of this is a team member may sit next to someone they do not usually interact with which creates greater team communication. They may discover that this team member has ideas that they hadn't thought of before which can be included in projects.
Also, having more group areas than individual work desks may encourage more efficient teams, as they can choose to sit next to the people their tasks involve to collaborate with for that day.
5. Time Out
Sometimes the way to be the best team at work involves allowing employees to have their own time out to come up with innovative ideas on their own. Google implemented a free time period with its employees and discovered that the best ideas came from working on these individual projects, for example, this is how Gmail was born. Assigning around 15% of the day to an activity of the employees' choice can generate new ideas in the office, such as ways to help the business run smoother, and look into new technologies that can benefit the business' efficiency.
Overall, businesses have amazing teams when there is cross-collaboration, opportunities to upskill, and new exciting ways to work around the office. By ensuring your business is not stagnant with the technology and processes used, the team can run more efficiently. Also, spending time listening to other people's ideas rather than the same individuals all the time can introduce a diverse selection of activities to improve the teamwork.