A taste of Lowcountry cuisine in Hilton Head SC
Posted by Beni Restea on November 24th, 2020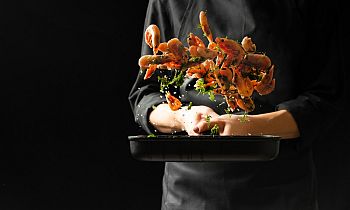 Visiting a new region is a great learning experience that creates memories of amazing people, great history, and unique culture. The aspects that shape a community are reflected in their customs, attractions, and even their food. Local food that is specific to the region not only brings new tastes and flavors for your taste buds, but it is also representative of the area.
We are about to explore Lowcountry, a geographical and cultural region located along the coast of South Carolina. Lowcountry is known for its historic cities and communities, cultural heritage, tourism industry, and natural environment. Very few places can surpass the Lowcountry region in beauty and wealth, but we are here to take a food journey in one of the most famous towns of the Lowcountry, the Hilton Head Island of South Carolina.
Here are some of the best restaurants and food places that can offer you a taste of Lowcountry cuisine or dishes from different cuisines.
The Jazz Corner
Not many restaurants can match the style and finesse of The Jazz Corner restaurant. The idyllic setup of the dining room feels very warm and inviting. It is the perfect place to enjoy a great dining experience backed by top performances from renowned jazz bands. Great food and good music are the ideal combinations, in my opinion, and if that is something you are looking for, you can find it at The Jazz Corner.
For food, you can start with a Creole Oysters Appetizer, Lobster Tempura, or go for the classic caesar salad. The variety of seafood allows you to choose from different types of fish and shellfish for the main course. You can opt for their grilled haddock, served on a bed of white rice and white sauce, or you can go for the Jumbo White Shrimp & Sea Scallops over Cheese Grits and shoestring sweet potatoes. You can also choose to have a tasty Bacon Pork Tenderloin or Prosciutto Wrapped Scallops. Pork Chops or Herb Grilled Filet Mignon are excellent choices if you are looking for a delicious dinner with lots of flavors.
Poseidon Coastal Cuisine
As its name might suggest, Poseidon Coastal Cuisine is a dining place that offers a Godly experience when it comes to food and scenic waterfront views. If you are visiting Hilton Head Island, Poseidon Coastal Cuisine is a must. The restaurant is known for its American, Bar, and Seafood cuisine. The setup of the dining room is very organized, with booths and tables that can accommodate at least two people as well as large groups. The colors of the dining room bring in the ocean vibes with shades of blue and white, creating a warm and inviting atmosphere. If you want to see some of the best American foods being elevated to the next level you need to visit Poseidon Coastal Cuisine.
The menu features a variety of meats and seafood. The prices are relatively high, but the standards are even higher. For appetizers, you can get the iconic Maryland crab cakes for .25, or a fried green tomato Caprese for ,00. If you never had crispy duck wings, this is your chance to get them for .25. Poseidon's fresh catch might include Atlantic Salmon, Hawaiian Big Eye Tuna, or Mahi. For entrees, you can go for their 24oz Slow-Roasted Prime Rib with Butter Whipped Potatoes and Horseradish Cream Sauce for .00 or the Mixed Grill, which includes Filet Medallions, Maryland Crab Cake, grilled shrimp, and roasted veggies for .75.
Michael Anthony's Cucina Italiana
If you are interested in a great Italian restaurant, then Michael Anthony's Cucina Italiana is the place to go to Hilton Head SC. From pasta, antipasta, and home-baked pastry to fish and meats, the restaurant explores the fine cuisine of Italian cooking. The unforgettable dining experience at Anthony's is possible thanks to high-quality fresh ingredients and an award-winning team of culinary professionals.
The best Caprese salad on the island is made at this restaurant, and you can have it for .50. The Gorgonzola salad is fantastic, and it goes brilliantly well with one of the veal mains. Any pasta dish is around .00. You can get any of the classics such as bolognese with tagliatelle or go for something a little more elevated such as the homemade potato gnocchi with wild mushrooms, peas, pancetta, and tomato. Everything is refined and very tasty, and you won't regret paying Anthony's a visit.
Stu's Surfside Subs
The great thing about the island is that you can always indulge in some of your favorite comfort foods without having to pay a lot for a fancy dinner. The fancy stuff has its place and time, but if you are just looking for a Deli-style sub on the go that is simple and delicious, Stu's Surfside Subs is where you can find it. It is one of the best local spots for quick and tasty sandwiches that you can have on the spot or to go. It is comfort food that many of us find enjoyable and satisfying when you don't have the time to sit down and have a full course meal.
Try their roast beef subs or the soft taco with BBQ pork. Their meatball subs and veggie subs are excellent options, and you won't be disappointed with any of them. All the sandwiches are incredibly tasty and delicious, and you can get a full-size sub for only eight bucks, and if you only want half a portion, that is also possible. The Surfside restaurant is also conveniently located near the beach, so if you are feeling hungry after a beautiful day at the beach, you can quickly grab a tasty and delicious sandwich at the Stu's.
A Lowcountry Backyard Restaurant
If you want to get an authentic taste of the local cuisine, the Lowcountry Backyard Restaurant is the place that delivered that experience at its fullest. Lowcountry Backyard restaurant serves breakfast, lunch, dinner, and brunch, and their menu features vegetarian and vegan options. The friendly and warm ambiance is backed up by excellent food for an authentic Lowcountry experience. Even if you are not open to trying new food, you can always stick to the classic American dishes that we all love and cherish.
The iconic Palmetto cheese dip is excellent, and the Lowcountry Boil is a great way to taste some of the fresh, quality ingredients found on the Island. The Lowcountry Boil comes on a platter that contains a variety of seafood such as shrimp, crab legs along with veggies such as corn and potatoes. The Fried Green Tomato BLT is another staple at the Restaurant, and you can always go for some of the classics like Mac'n cheese, shrimp and grits, and key lime pie for dessert. You will have a fantastic experience, and soon you will be back for more.
Conclusion
The resort town of Hilton Head SC is as good as it gets when it comes to food. You have a variety of restaurants that range from top-end fine dining to casual dining. You can even find fast-food restaurants that serve quality meals for reasonable prices along with pleasant ambiance and friendly people for an outstanding dining experience. If you want to learn more about the food culture of the Lowcountry, get in touch with our real estate agents in Hilton Head SC and prolong your stay. Who knows? Maybe you will make the Island your new home!
Also, if you enjoy our content, don't hesitate to share it on your social media platforms.