The role of robots in a postpandemic world and its impact on worker – Part IV
Posted by HR Tech Partnership on December 1st, 2020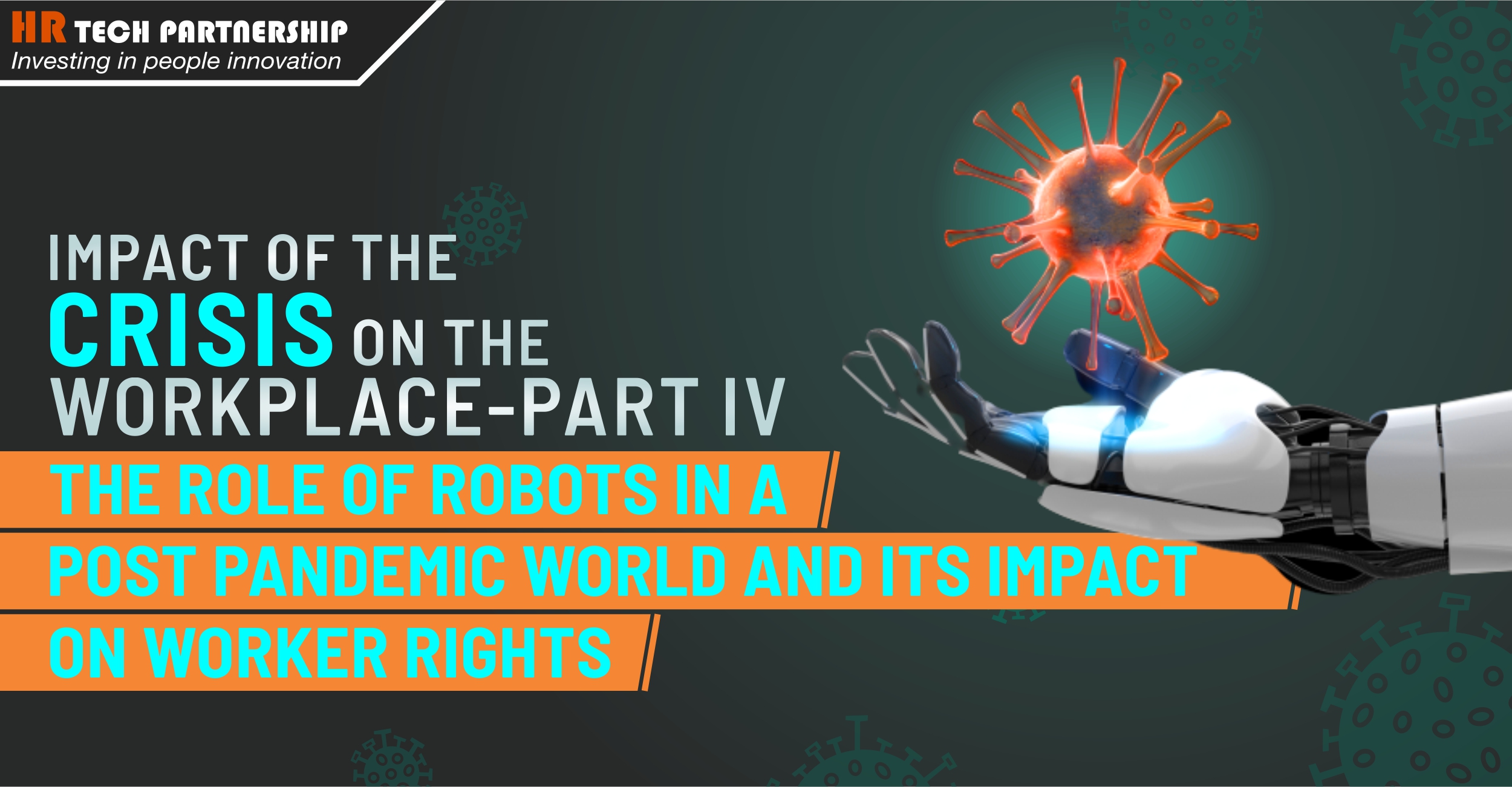 In the series of blogs that we have produced so far, we have seen how the current crisis is creating drastic changes for most industries. They have also served to highlight the world of Artificial Intelligence which was already making inroads into the workforce.
Prior to the pandemic, the presence of bots, robots, and other forms of machine learning was increasing through the following ways at the workplace:
Bringing in higher productivity particularly around CV screening, talent acquisition, and employee assistance
Improving employee engagement through solutions having gamification, nudges, etc.
Augmenting routine tasks e g robotic process automation, addressing first level customer queries in call centres.
Creating disintermediation platforms that removed the need for human intermediaries/middlemen/agencies. This was primarily seen in recruitment and training programmes.
And finally, to a small extent the substitution of workers for machines. This perhaps has created the greatest level of concern in the mass media. We can look to the Ocado Andover warehouse for a large-scale example of this.
Despite the creeping presence of machines and Artificial Intelligence in recent years, there has never been a wholesale transfer from manual labour to automation. The coronavirus crisis is expected to speed up the process. but industry leaders can also see how automation will be advantageous:
With warnings of a repeated spike in coronavirus cases, the safety issues of a return of the workforce could be naturally eliminated by a move towards work conducted by robots and machines
The pressure on costs would be alleviated by a shift to automation.
Changing business models focussed on digital (online sales)is making a digital workforce more appealing – particularly with the increase in remote working.
New social distancing measures have already caused a rise in the use of robots. In hospitals, specialised robots are tasked with disinfecting rooms and delivering blood samples. Drones have been employed by police forces to enforce these new rules. There has also been an increase in autonomous floor cleaning in retail stores.
Specifically, robots could see increased use around:
Physical /retail stores helping alleviate safety/contact issues
Supply chain/Logistics/Driverless cars to ensure cost efficiencies
Manufacturing/Warehousing for the above two reasons
Really almost any part of business operations which is routine in nature
There are however concerns about the mass unemployment which may come as a result and the impact it may have on worker rights (which have been steadily decreasing due to the gig economy).
Many governments have implemented Furlough Schemes which have made a big difference in managing the immediate impact of Covid 19. However, more needs to be done for those in the shutdown sectors who are day laborers, non-contract workers, temporary employees, and those without social protection coverage. Many of them are women or from vulnerable groups
Corporates can play a big role and there are some good examples. The clothing giant H&M has assured its manufacturing suppliers that it will not cancel or seek to re-negotiate existing orders and will take delivery of goods in production. Unilever has committed to helping its most vulnerable small and medium-sized suppliers by extending cash loans.
But governments have a bigger role to play. Many are looking at stimulus packages and ideologies are converging. The need of the hour is not just to protect jobs but to help upskill everyone to the new requirements.
There is going to be an inevitable rise in the prevalence of robots and Artificial Intelligence and the future of work is changing rapidly. It is going to take a concerted effort by governments, business leaders, and individuals to adapt to this changing scenario.
The London based HR TECH Partnership runs a Human Capital Digital Innovation Hub to facilitate learning and adoption by corporates of agile start-ups around Talent and Workplace productivity. It also has a People Tech investment venture which funds early-stage start-ups incorporating AI and leading-edge technology. The team and most of its stakeholders have senior corporate experience and a good understanding of large organisations.