Zinc Sulfide Lenses
Posted by Ningliu on May 6th, 2017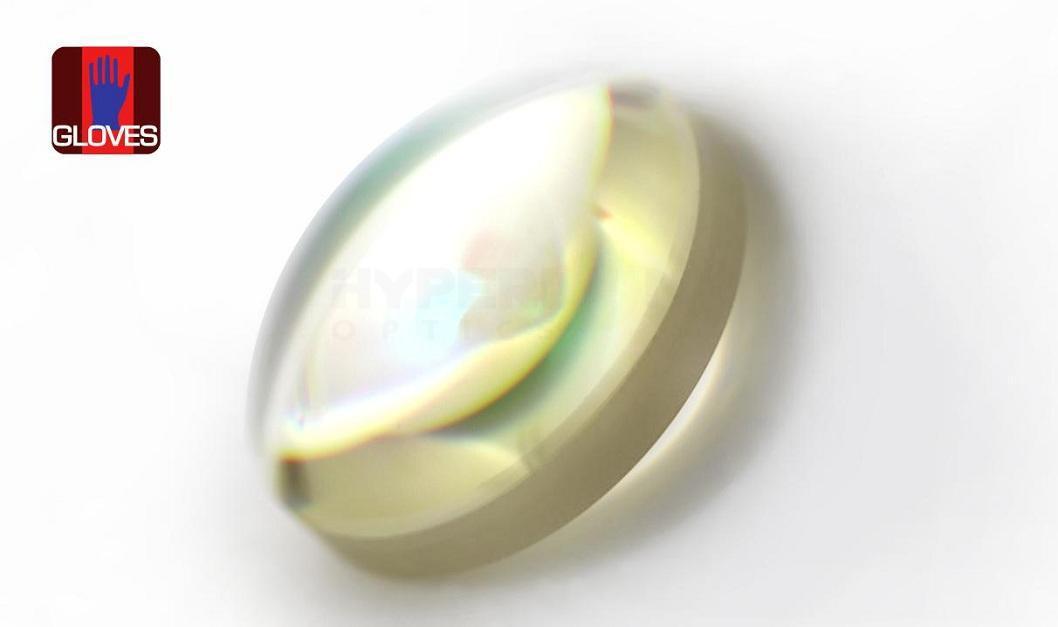 With the rapid development of military weaponry and correlative targeting and monitoring systems, ZnS is widely utilized in multi-spectral IR applications. Its relatively high transmittance through 3-5µm and 8-10µm enable ZnS being an ideal choice for multi-spectral applications. Further, within NIR and SWIR range, CLEARTRAN CVD ZnS can also be considered as indispensable alternative for optical designers.


Hyperion Optics uses CLEARTRAN ZnS multi-spectral material from ROHM&HAAS, typical material arrival lead time is 2 weeks. CLEARTRAN ZnS is modified by post-deposition hot isostatic process from CVD Zinc Sulfide, which contributes to transmittance from visible till far infrared ranges (0.35 to 14µm). Therefore, ZnS has become an imperative choice for IR lenses, laser windows and thermal imaging applications.
Hyperion Optics' ZnS lenses are especially suitable for systems that involve visible camera, mid-wave and long-wave detectors, and further laser rangefinders to designate targets. Our CLEARTRAN ZnS windows also can be used for external windows for particular sensor applications.
ZnS is comparatively soft cubic crystal in manufacturing, meaning it is easily to leave scratches in grinding and polishing processes, which lead to a complicated quality control of both cosmetic and surface accuracy. Hyperion Optics invested heavily in ZnS component manufacturing capability improvement, enables our engineers master the optimal processing techniques in return helps Hyperion Optics to meet customers' expectation without compromise. ZnS aspheric lenses are also available for your application; please refer toIR Aspheric Lenses for more information. ZnS Dome optics is also available in our Domecategory.
Our ZnS lenses are also available with AR coating according to specific requirement. Please take great care when handling, mounting and cleaning ZnS lenses, further, For your safety, please follow all proper precautions, including wearing gloves when handling these lenses and thoroughly washing your hands afterward.
Find out what we can help you with ZnS components today, we will be more than happy to evaluate your part and provide our professional suggestions from production perspective.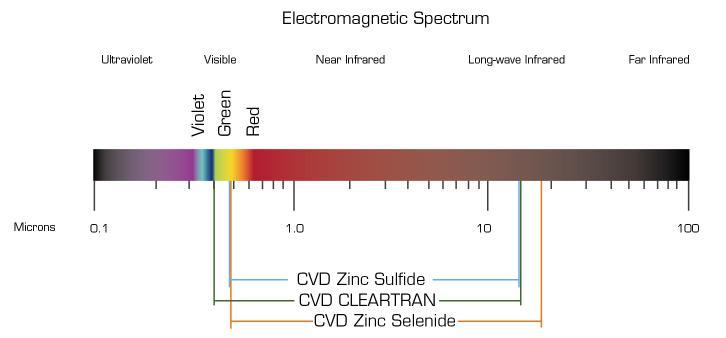 ZnS (CLEARTRAN) Refractive Index vs. Wavelength

Wavelength (µm)

Index

Wavelength (µm)

Index

Wavelength (µm)

Index

Wavelength (µm)

Index

0.4047

2.54515

0.6678

2.34033

1.5296

2.27191

9.000

2.21290

0.4358

2.48918

0.7065

2.33073

2.0581

2.26442

10.000

2.20084

0.4678

2.44915

0.7800

2.31669

3.000

2.25772

11.250

2.18317

0.4800

2.43691

0.7948

2.31438

3.500

2.25498

12.000

2.17101

0.5086

2.41279

0.8521

2.30659

4.000

2.25231

13.000

2.15252

0.5461

2.38838

0.8943

2.30183

4.500

2.24955

0.5876

2.36789

1.0140

2.29165

5.000

2.24661

0.6438

2.34731

1.1287

2.28485

8.000

2.22334
Zinc Sulfide

COMMERCIAL GRADE

FACTORY STANDARD

PRECISION GRADE

Diameter Tolerance(mm)

+0/-0.20

+0/-0.10

+0/-0.025

Center Thickness(mm)

±0.20

±0.15

±0.025

Radius (%)

±2%

±1.5%

±1%

Focal Length Tolerance (%)

<3%

<1.0%

<1.0%

Cosmetic(MIL-C-13830A)

80-50

60-40

40-20

Figure Tolerance in λ(Pow/irreg)

5 - 2

2 - 1/2

1 - 1/4

Centration (Arc min)

5'

3'

1'

Dia. To Thick Ratio

9~50:1

Coating (R% avg)

<2.0%@ VIS-SWIR , <1.5% @ 3~5µm or 8~12µm

Materials

CVD Zinc Sulfide and CLEARTRAN CVD ZnS