Sophistication at Your Fingertips
Posted by Radmin on June 17th, 2019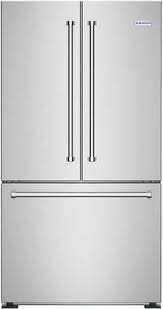 Sooner or later, every homeowner is going to need to purchase a new refrigerator. From its humble beginnings, refrigerators have now evolved to add a certain level of sophistication and elegance to your kitchen. If your kitchen is narrow, such as in a galley kitchen, you need to consider space utilization at the same time you're looking for something that's aesthetically pleasing. A French door refrigerator may be the best solution. Here are some reasons to consider this choice:
Why Opt for a French door model?
A French door refrigerator is a model that has a bottom mounted freezer and two refrigerator doors that open in the center. The advantages to this type of layout are enormous. Not only is it beautiful in appearance, it's also beautiful in design. By putting the lesser used freezer on the bottom, it puts the refrigerator portion at eye level, making access to the most important part of the unit easier. The twin doors are an efficient use of space since the individual door is smaller and you don't need much space to open the unit. This type of layout conserves energy as well, since the dual doors prevent the cold air from escaping when you open only one side at a time. The interior shelves are wider, and the bins for vegetables and produce are larger. This combination of a logical layout and the ability to fit in a tight space make a French door refrigerator an excellent option to consider. There are all kinds of options to consider as well, from ice makers to the latest technology, which will help track the food that's been consumed, making grocery shopping easier.
What to Look For
These types of refrigerators are a bit more expensive, typically priced from ,000 up, so it's best to take your time with a purchase. Look for a brand that offers a warranty and which is recognized by Consumer Reports as being an outstanding company who guarantees their merchandise. Make sure the freezer portion of the refrigerator has a basket that slides out for easy access to the frozen food.
The dealer should be authorized to sell the product and should offer free shipping, installation, and free technical support. The company should also be a member of the local Better Business Bureau (BBB), and have an outstanding reputation.
These are a few considerations to keep in mind when searching for a French door refrigerator.