5 Common Uses for Plastic Stanchions
Posted by Radmin on October 27th, 2019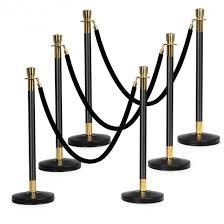 If you're in any line of work that deals with crowds, naturally one of your number one responsibilities is controlling those crowds. The most popular means of doing so is through plastic stanchion posts. Lightweight, inexpensive, and versatile plastic stanchions can be found anywhere crowds of people are likely to appear. Here are just a few of the most common uses for stanchion posts.
1. Amusement Parks
Sometimes it seems like half the plastic stanchions in the country are at amusement parks. Walk into any large or small amusement park and you'll see plastic stanchions with retractable belts out in front of all the rides, as well as walk-up ice cream stands and fast-food joints. Plastic stanchions can be rearranged quickly to accommodate crowds as they grow and shrink, so they're perfect for these kinds of environments.
2. Restaurants
As with amusement parks, a restaurant can go from empty to full at a moment's notice. Sit-down restaurant managers love to use stanchions to separate outdoor seating from the adjoining sidewalk, as well as to designate parts of a patio that are closed. Fast-food restaurants, meanwhile, will use them to guide customers into a line in order to save space.
3. Museums
Museums don't want their patrons to get too close to the art, or clog up walkways. Plastic stanchions are helpful reminders for them to keep their distance, and encourage patrons to move throughout the museum in an orderly fashion.
4. Airports
Stanchions might be even more popular at airports than they are at amusement parks. You'll find stanchions when you're checking in when you're in line for the TSA, and as you board your plane. You'll also find them serving the same functions as they do at restaurants since airports these days are full of restaurants that require crowd control just like anywhere else.
5. Outdoor Weddings
Plastic stanchions are simple, non-obtrusive ways to guide attendees to head in the right direction at weddings. Through the course of the ceremony, you'd like to make as little noise as possible, and plastic stanchions are able to communicate effectively without attracting any unwanted attention.
If you run a small business — or are likely to hold your own special event in the near future — plastic stanchion posts are an easy and versatile way of keeping human traffic moving in a nice and orderly fashion.