Enjoy the Best Christmas Movies with Loved Ones This Year
Posted by Radmin on December 22nd, 2019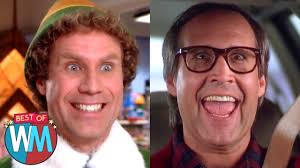 When it's the most wonderful time of the year, finding fun ways to celebrate and spend time together as a family can bring even more joy to the Christmas season. For many families, Christmas movies are a time-honored tradition and a great way to cozy up with some Christmas spirit on a frosty winter night. From traditional classics to newer favorites that may make their way into your family's list of beloved movies, read on for a list of some of the best Christmas movies ever made.
The Classics
You can't start a list of Christmas movies with anything but the classics. It's a Wonderful Life, Miracle on 34th Street, A Charlie Brown Christmas, White Christmas, How the Grinch Stole Christmas, Frosty the Snowman, and early versions of A Christmas Carol are oldies but goodies that are sure to bring the Christmas spirit to people young and old. The lessons about the true meaning of Christmas can be a great way to spark meaningful discussion with your family, and the timeless humor can bring a smile to anyone's face.
The next generation of classics includes A Christmas Story, Rudolph the Red Nosed Reindeer, the Polar Express, the Home Alone movies, The Muppet Christmas Carol, The Nightmare Before Christmas, The Santa Clause, Jingle All the Way, and Jack Frost. These often silly movies have all been added to the list of classics for your family to love.
New Favorites and Feel-Good Flicks
In addition to the classics, there are many newer Christmas movies that celebrate the meaning of Christmas and bring laughs for the whole family. Elf, Four Christmases, Christmas Manger, A Princess for Christmas, Miracle Maker, Christmas Angel, Christmas Tail, Christmas Belle, Let It Snow, Noelle, and many others can be fun for the family to enjoy. From children's movies to Christmas rom coms, there's something for everyone to enjoy this Christmas season.
Fun Christmas Traditions
Once you've picked your movie for the evening, take your movie-watching experience to the next level with a few Christmas comforts. Fuzzy blankets, warm mugs of hot chocolate, glowing Christmas lights on the tree, and Christmas jammies can all help to cement the feeling of love and laughter that make this time of year so magical. The best Christmas movies are best enjoyed with friends, family, and loved ones, and a tradition of Christmas movies is one you can repeat every year with joy.