Basics about Industrial Storage Shelves
Posted by sere on March 9th, 2020
Space is a big issue for many people. The need to properly utilize space and maximize available floor space has become very important. However, industrial shelving units for storage can solve all the problems. The industrial shelving system is the best solution for accurately arranging, organizing and storing items in offices, houses and other large industrial companies.
Benefits of Using Up Industrial Storage Shelves
Industrial storage shelves provide various benefits for users. Here are some main points.
Additional space is ensured
These shelves help to create additional space. So, while you are searching for a solution that can help you to create space in your warehouses, this is the best solution. It can help you place heavy material with ease.
Helpful at all places
These shelves are mostly used in warehouses but that doesn't imply that they can only be used in large spaces. They can also be used in offices too where one must store things for future reference later.
Safe and secure in all conditions
These shelves take care of the security of products. Most of these shelves are made up of materials that can hold up heavy weights, therefore the products are not at a risk of falling from the shelves in any condition.
Great quality assured
These shelves are products that are made up of the highest quality material which helps it to carry heavy material easily. Also, these shelves are galvanized and coated with a powder preventing them from getting corroded for a longer period.
Increases employee efficiency
Employee productivity and efficiency can also be increased as these shelves help to find the goods easily and quickly.
Different Types of Industrial Racks Used for Storage
There is not just one but several types of industrial shelving units for storage in different areas ranging from their houses to the manufacturing units. And hence, you can understand well its use in small scale and large-scale industries. The list below would help you to easily identify the different types of industrial storage shelves available in the market.
Double deep pallet racking system
When there is not much space for storage, people need one that organizes their materials by occupying a little space at their place. This kind of system is the one best suited for this purpose.
Adjustable pallet racking system
When people need a system that can be adjusted as needed, this system is the right choice, and people can sort to make it easier and better to pile up the materials.
Cantilever racks
These are mainly used for stacking different materials in the same rack. And they are usually used when people need to sort heavy items.
Mezzanine floors
These industrial storage shelves are the ones that are used widely when safety of material is needed mostly like that of a glass factory.
Multi-tied storage system
This is a method of stably preventing objects from falling, and it is easy to convert multiple single storage systems into a multiple storage system.
Slotted angle racks
These can be expanded in both directions by adjusting the gauge, so they are used by containers that need to stack materials of different sizes.
Storage shelves for industrial use can also be divided by the materials they are made of. There are three main types: wood shelves, plastic shelves, and metal shelves. All these shelves are equally important and have their own characteristic features.
Wooden shelves can be considered the classic shelf type. They can be made from high quality wood and are very durable, elegant and sturdy. These shelves are widely used by most libraries worldwide.
Plastic shelves are best suited for storage and display of lightweight materials. These shelves are very durable, versatile and do not rust. Plastic shelves are non-conductive materials and are resistant to solvents such as battery acids and other cleaning solutions.
Metal storage shelves are the most durable and versatile ones. They are widely used by many offices and other industrial companies. They are heavy-duty products with greater storage capacity than any other type of shelf.
The Application Range of Industrial Storage Shelves
Today, there are various types of industrial shelving units that can be used in different environments, such as warehouses and factories. The ideal storage system should help meet different needs, such as taking up less floor space, providing more storage space and being easy to use. Industrial metal storage shelves can meet these requirements. These shelves are available in a variety of sizes, which makes them suitable for a variety of companies. Therefore, these shelving systems can also be used in offices, hospitals, shops and many other places that require additional storage space.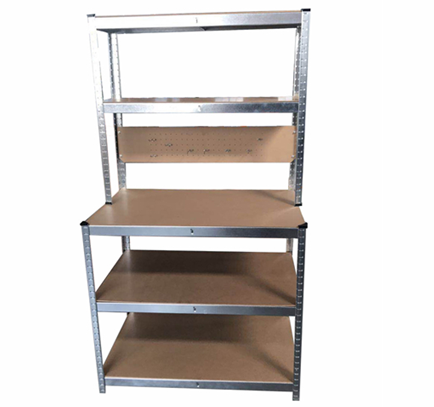 Qingtai QT6167 New DIY Metal Galvanized Industrial Workbench
Product Parameters of Industrial Storage Shelves
Model: QT6167
Product Size(mm): 1800x1010x600(300)mm
Load Capacity(kg): 175kg
Steel Thickness(mm): 0.8mm
MDF Thickness (mm): 5mm
Surface treatment: galvanized
Certification: TUV/GS
Product Features of Industrial Storage Shelves
1.Diversified garage workbench
2.Heavy duty workbench & light duty workbench are for your choice
3.Metal frame assemble gap is suitable with no loose
4.Smooth surface without any raw edge
5.MDF board fits well with frame
Qingtai is an expert in shelf manufacturing. If you still have questions about industrial shelving units, please feel free to contact us.