Places in Rajasthan that People Should Definitely Explore
Posted by veenatourpackages on May 28th, 2019
Rajasthan is a major North Indian state that is popular for its vibrant culture and intriguing ancient architecture. This state boasts of housing several incredible palaces and forts that act as a reminder of the ancient dynasties that ruled over this region. People can easily book comprehensive Rajasthan tour packages from any of the renowned tourism agencies in the country. These tour packages enable travellers to explore magnificent places, enjoy exciting camel safaris on golden sand dunes, witness vintage cars, as well as have fun shopping experiences in the local markets of the state. Enjoying the experience of the effervescent folk culture of Rajasthan tends to be one of the key highlights of these tours as well.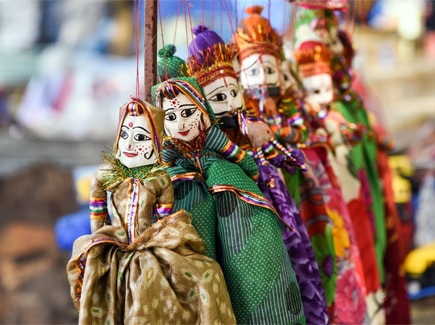 Here are a few places people should definitely try to explore when going for a Rajasthan tour:

Hawa Mahal

This is a popular ancient palace located in the city of Jaipur. The Hawa Mahal is constructed with red and pink sandstone and is known to be built in the year 1977.This grand palace sits on the edge of the City Palace of Jaipur, and extends to the women's chambers or zenana area of the structure. This palace was built by Maharaja Sawai Pratap Singh who took inspiration for the Hawa Mahal from the unique structure of Khetri Mahal, which is located in Jhunjhunu. The beautiful Hawa Mahal is especially popular for featuring 953 small windows called jharokhas, which additionally are decorated with elegant and intricate latticework.

Jantar Mantar

The Jantar Mantar monument of Jaipur features a grand collection of incredible architectural astronomical instruments and was built by Sawai Jai Singh II, an ancient Rajput ruler. Jantar Mantar is a UNESCO World Heritage site and is renowned for housing the largest stone sundial in the world.

Chittorgarh Fort

This is a UNESCO World Heritage Site, as well as one of the largest forts present in the nation. This fort was located in the town of Chittor. The majestic Chittorgarh Fort is spread over an area of 691.9 acres, and features many historically significant palaces, temples, and gates, as well as two commemorative towers.

Saheliyon-ki-Bari

This is a prominent garden complex located in the city of Udaipur. Saheliyon-ki-Bari was built by Rana Sangram Singh, and features a beautiful lotus pool, as well as several fountains, marble elephants, and kiosks. A small museum can also be found here.

City Palace of Udaipur

This is a magnificent palace complex that attracts people from around the country and is one of the biggest highlights of any Rajasthan tour package. The awe inspiring City Palace of Udaipur was built over an extensive period of four hundred years, and features contributions from multiple rulers belonging to the ancient dynasty of Mewar. This grand palace lies on the east bank of the mesmerizing Pichola Lake. This palace boasts of featuring both Rajasthani and Mughal styles of architecture, and is known to provide panoramic views of Udaipur city and its surroundings. Monuments like Jag Mandir, Lake Palace and the Neemach Mata temple all are within the vicinity of this vast temple complex.

People can visit the website of any renowned tourism agency of the country to book a comprehensive Rajasthan tour package from there, and subsequently enjoy a grand tour of this state.

Also See: Rajasthan Tour, Hawa Mahal, Jantar Mantar, City Palace, Palace, Rajasthan, Tour


Photography Masterclass - Learn Digital Photography The Smart Way
Master Any DSLR Camera And Take Gorgeous, Attention-Grabbing Photos By Following Step-By-Step Video Tutorials!
Adult Guitar Lessons
Have you always wanted to play guitar but could never find the time? Like the rest of us, you're probably busy raising a family, working a job, finishing school or chasing a career. You might even think you're too old, or unable to learn how to play.
The Secrets to Drawing Video Course
The Secrets to Drawing is a comprehensive learning experience designed to guide absolute beginners and intermediate artists through the core foundations of drawing through concise and "easy to digest" modules that include HD videos and ebooks.
Advertise Here